Basic Blinkie Make Tutorial
What you will need ?
What they are for.
MSpaint to make the individual frames for the blinkie. Most of you should have this first one.
Irfanview to convert the bmp files from MS Paint into GIFs. (also good image viewer) Freeware.
Paint shop pro is a very good photo/paint program. Free trial befor you buy. More info
Animation Shop an animation program that comes with PSP.


Example Basic Blinkie Make: Make a Blinkie like this



To make your Blinkie Boxes you will need a graphics program.

This tutorial will use MSPaint as most will have this one already.
Other paint programs can be used as tools used will be similar.

#1.Open Paint program

#2.Use the Text tool

and a draw box. Choose the font you want and type your text.
Type a space between each letter.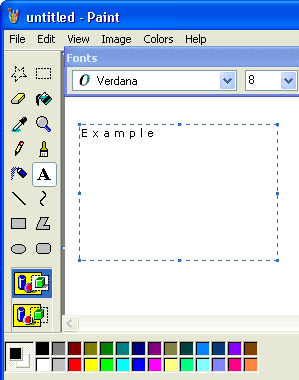 #3.Use Zoom Tool to make image bigger.
Then use Rectangle tool to draw a box around each letter.
Leave approx one pixel width around each letter.


#4.Use Select tool

to select and move letters into line.






#5.Choose the color for your Blinkie and use the fill tool

to fill background of the blocks.





Then go the menu: File > Save as... and save the image as base.gif

#6.Choose the change color for your Blinkie and use the fill tool

to background fill the first block.



Then go the menu: File > Save as... and save the image as base1.gif

#7.Do the same thing with each block and save them as base2, 3, 4, etc...

#8.Open unFREEz and put all of them in, in order.



Make the Frame Delay to 10. Save as... your blinkies name and upload to your site!



If you are making your first Blinkie it might seem a lot to do, but after making a few it gets so easy.
Programs Used: Info:
PaintShopPro is a very good photo/paint program and a lot faster to use than the more well known (and incomprehensibly expensive) Adobe Photoshop. PSP has lots of ways to edit just about every aspect of an image (lots of ways you probably never knew about) and the features can be combined many, many ways so that even after using it for years you can still find new effects through experimentation.
It even comes with Animation Shop so you can make cool animations and even mini movies!
Best buy for the money. Buy in UK
UnFREEz is a high-speed Windows application that will take any number of images, saved as separate GIF files, and create a single animated GIF from those images. What makes this program unique from its competitors? First and foremost, UnFREEz is freeware, which means you may use it forever without paying a cent or feeling the slightest bit guilty. Secondly, UnFREEz is incredibly tiny, meaning you don't have to spend forever downloading an extremely bloated piece of software. Finally, it is so easy to use. Just drag and drop some GIF files from Explorer, set the frame delay time, and hit Make Animated GIF. UnFREEz will take care of the rest, including automatic interlacing and transparency detection. So download UnFREEz now and try it out for yourself! If you like it, keep it; it's Free!
| Blinkie Maker | Basic Blinkie Make | Blocks Tutuorial |
| Blinkie animation tutorial | Make your own Blinkie Maker |